ANTI-GRAFFITI WINDOW FILM
No matter where you look in San Diego, you will find buildings with glass fronts damaged by graffiti. This is a 12-billion dollar problem in the U.S. alone. The good news is that anti-graffiti film can be used at a fraction of the cost that it takes to replace damaged glass.
Stop vandals in their tracks by applying anti-graffiti film to your windows and other glass surfaces!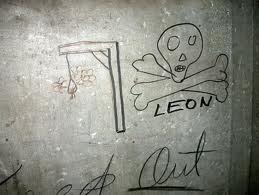 Eco Tint and Shade carries Llumar, Vista and HanitaTek anti-graffiti films available in 4 and 6 mil strengths, which have an advanced scratch-resistant layer and it is easily cleaned with conventional glass cleaners. These special window films go on the outside of your exterior windows and protects the glass from graffiti by giving your windows a strong first line of defense against paint, gouging, scratching and even acid etching. And if some damage is done, then you simple replace the film for a fraction of what you would spend on a new window.
It is optically clear, distortion free and the installation is quick and easy. Anti-graffiti film is also a low tack film so in the event that vandals do strike, the window film can easily be removed, graffiti and all!
Should you consider anti-graffiti window film for your business?
This short video will show you how it works:
Anti-graffiti film can be used for:
Sneeze Guards
Large Glass Doors & Walls
Bus stop shelters
All glass surfaces/structures
---
Contact Eco Tint and Shade at 858-332-1650 for a free consultation and estimate for anti-graffiti window film!