Transform Your Home with Decorative Window Film
You can quickly and easily transform any space in your home by adding one of the many types of decorative window films available today. Whether you are looking to add privacy to a bathroom or large window, or simply want to make a stylish, yet affordable change to a room's decor, Eco Tint and Shade has the right window film for you!
Decorative Film is Great for Commercial Applications Too!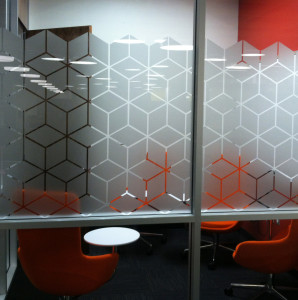 Decorators and architects are continuing to use decorative film applications in their designs because decorative window films are a perfect solution for commercial buildings. They offer privacy on office doors, interior glass partitions, conference rooms, lobbies, retail environments and can even be spiced up with graphics, or a company's logo!
This window film at DART Neuroscience adds privacy and style to their meeting spaces.
Save Money with Decorative Window Film
Decorative window films can provide the same look as expensive etched glass at a fraction of the cost of laminated panels, patterned or sand blasted glass. Plus, they come in different patterns, textures and colors and are easily replaced if you want to update the appearance at a later time.We also offer mosaic, stained glass, ripple/water glass and rice paper to name a few in our extensive collection.
---
Contact Eco Tint and Shade at 858-332-1650 for a free consultation and estimate for residential or commercial window tinting for your San Diego home, office or retail space!
Other Window Film Applications for Commercial Properties:
Decorative Film Photo Galleries: