Frosted Window Films
Etched or
frosted window film
offers privacy in varying degrees based on the customers' privacy requirements. The beauty of frosted film is it can be used to diffuse or focus light, or block it entirely. The film not only comes in different frosts but in patterns and textures as well. And unlike traditional etched glass, surfaces with frosted window film resist fingerprints, and most importantly, are a fraction of the cost!
Frosted Window Film Patterns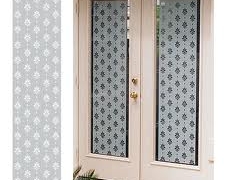 Patterned films come in a wide selection of classic and elegant patterns that will fit in perfectly with any décor. These films not only add style but with its versatility it is a perfect complement to office partitions, conference rooms, entry doors and bathrooms – wherever privacy is needed. Patterned films can be applied vertically, horizontally or diagonally to create stunning effects on existing glass. Like etched glass, decorative films are durable and long lasting, but unlike glass, they can easily be updated when your tastes change. This flexibility is ideal for rental spaces where tenants' requirements fluctuate. You can provide a custom look without the expense of glass replacement.
Did you know that California is the first in the nation to add window film to their building code?
Let Eco Tint and Shade show you why window film is a leading choice of building owners, architects, and facility managers seeking protection for their properties. Our security window film is highly recommended for areas prone to natural disasters and burglary. Click on our website to learn more about our security window film.
---
Contact Eco Tint and Shade at 858-332-1650 for a free consultation and estimate for commercial window tinting for your San Diego home!
---
DECORATIVE Window FILM Galleries: