ENERLOGIC LOW-E WINDOW FILM OVERVIEW
EnerLogic is a patented, low-e window film that directs solar and radiant heat back to its source for substantial energy savings without sacrificing natural light. Standard films aim to keep heat out during the summer, but EnerLogic film also keeps heat in during winter months.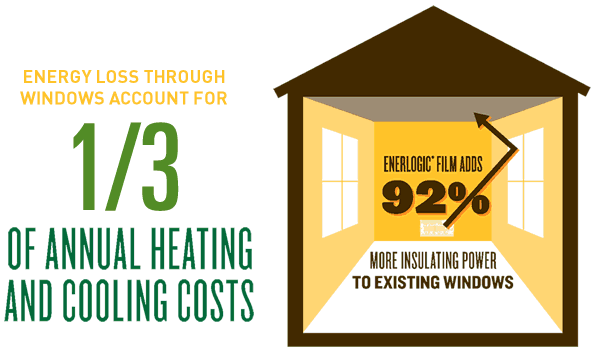 This insulating power is so strong that a single pane of glass insulates as well as a double pane with the addition of Enerlogic film.  If you are thinking of replacement windows, EnerLogic film can be applied at a fraction of the cost. Our clients have seen decreases in energy costs by up to 50%!
ENERLOGIC FILM FOR YOUR HOME
The benefits of Enerlogic window film go far beyond the significant decreases to your energy bill.  Because it blocks 99% of UV light, Enerlogic is recommended by the American Skin Cancer Foundation.  It also protects your furniture, artwork, and other possessions against aging and fading from the sun's more damaging rays.  Enerlogic accomplishes all this without changing the interior or exterior appearance of your home and can be applied in one afternoon by our team of experts.  Give us a call at 858-332-1650 for your free consultation.
ENERLOGIC FILM FOR YOUR BUSINESS
Increase satisfaction and productivity while reducing sick days and energy costs by applying Enerlogic window film at your workplace.  This insulating film allows employees to enjoy natural light while saving on cooling or heating costs.  Replacing with double or triple pane windows is time consuming and you will be waiting decades to recoup costs. Enerlogic is easy and affordable to install, and provides a return on investment in under 3 years!  Give us a call at 858-332-1650 for your free consultation.
---
Contact Eco Tint and Shade at 858-332-1650 for a free consultation and estimate for EnerLogic window film!