Protect Your Windows & Doors with Security Window Film
Security film for glass surfaces is made with heavy-duty polyester bonded by the industry's strongest adhesives. Our security films provide a powerful barrier that helps hold glass in place should impact occur. No matter what the impact is from natural disasters, crime, vandalism or everyday accidents you can rest assure that our security window films will help control and even eliminate the danger and damage caused by broken glass in new construction and retrofit projects.
Prevent Break-Ins & "Smash And Grabs" with Protective Window Film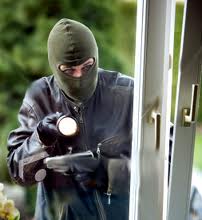 You may have an alarm system but windows can easily be broken and the police may take awhile responding to a alarm call. Vandals and burglars have this all figured out and they count on this delay to steal your valuables knowing glass is the weakest link in any building or home's protections. Made of multi-layer polyester and aggressive adhesives, safety and security window films will help protect your family, friends, employees and valuable belongings by delaying or deterring intruders from breaking glass protected by security window film.
Watch Video of Safety & Security Window Film Preventing a REAL Break-In!
This video contains security camera footage of  Safety & Security film stopping would-be thieves in their tracks. Can you believe something as thin and unobtrusive as window film can prevent a HUGE rock from breaking through the window for a "Smash and Grab" not once, but twice!
Bomb-Blast Mitigating Window Film for Commercial & Municipal Uses
Did you know that there are protective window films SO strong that they can prevent glass windows from shattering even in the case of a bomb-blast? Learn more about bomb blast film and watch a bomb blast test to see how protective safety and security window film can help protect people and property in the event of a bomb-blast or other explosion.
Recommended Applications for Security Window Films
Security window film is recommended for commercial buildings in areas prone to violent storms, earthquakes and those retail locations that are subject to vandalism. In addition, the following building types are also good candidates:
Hotels
Commercial Offices
Schools and Universities
Government Buildings
Health Care Facilities
Suitable for a broad range of applications, our security films meeting numerous certifications and is GSA approved. Security film comes in 4 to 16-mil strengths. Think of it as additional insurance for your buildings windows!
Read our Capabilities Statement
---
Contact Eco Tint and Shade at 858-332-1650 for a free consultation and estimate for security window film!